VeChain is a blockchain aimed to make supply chain management simpler. It helps to authenticate products and is used in large corporations to track products and manufacturing.
It works by giving each product a unique identity and using a sensor to track the happenings in each stage. Corporations can ensure that the products are handled correctly and verify the legitimate purchase. 
Sunny Lu founded it in 2015. He combines luxury goods and blockchain technology to create an Internet of Things (IoT) to manage the supply chain. 
It has a unique structure; instead of being one blockchain, it is designed to track the movement of goods and services across various supply chains. It has two token systems; one type of token funds the systems, and the other powers the blockchain. 
VeChain can be divided into three parts:
Real-world Tech

Cryptocurrency

The Platform
VET is a token that is used to make payments in the VeChain network. It is also used to generate another type of token, VTHO, which is necessary for companies in order to add more information to their VeChian blockchain network.
Let's look at the VeChain predictions and price analysis!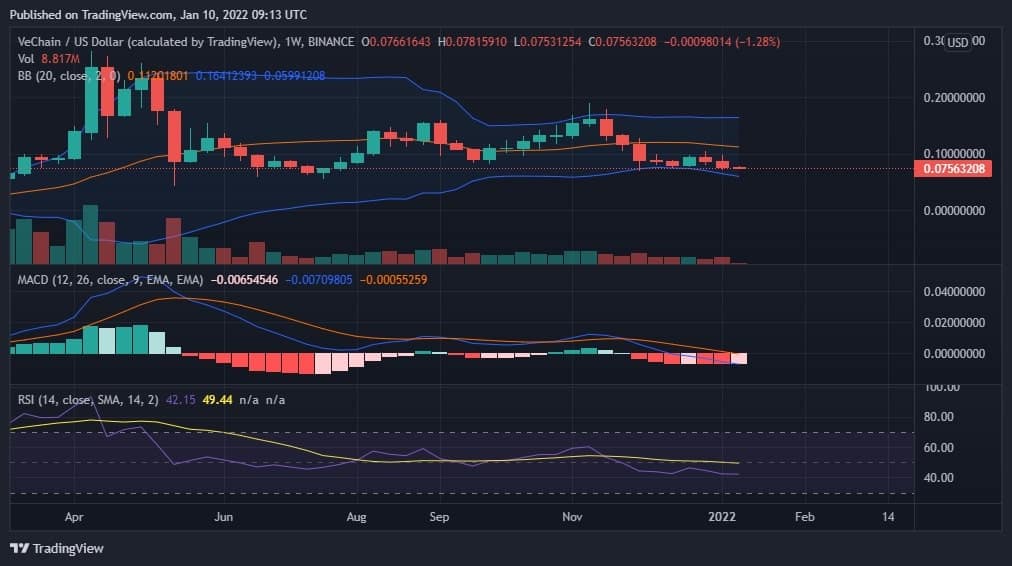 At the time of writing this analysis, it was trading around $0.07609, which is at the support level of this price. $0.15 is the resistance level of this coin. If it goes up, it will face resistance around this level. If it goes down, the next support level will be $0.037, which is far lower than the current price. 
On the daily chart, RSI is 42, which is stable; the MACD line is bearish. The candlesticks are forming in the lower half of the Bollinger Band, which also lacks volatility. A significant drop in the volume of trading is also noticed. It means the chart is not bullish, and you should not expect a quick swing trading like the previous two opportunities. 
It is not the right time to invest in this coin because it is not showing a bullish sign. For the long term, investors should wait for a bullish signal before taking any new position in VET. 
If you already have a holding, it is not the right time to sell. Please hold it for a year or two; it will soon swing back and provide a good return.
Indeed, it has real-world use and potential for long-term gain. It is still new in the market; investors should hold the token for five more years.