XRP, at the time of writing, was trading at $0.2028 and withheld no support from 200-day MA while exhibits slight support from 50-day MA. It was just yesterday when the currency retested support around $0.198 against the US Dollar for the 2nd time in a week.
Moreover, the price trend of Ripple appeared flat after the steep dip marked at the onset of the previous week and had recorded no major price movement. On the other hand, the king of the cryptos, Bitcoin, also hit the double bottom yesterday at $9.4k within a span of 5 days. After the previous week's dip, XRP coin has hit the 7-day high at $0.207 and is lacking momentum thereafter.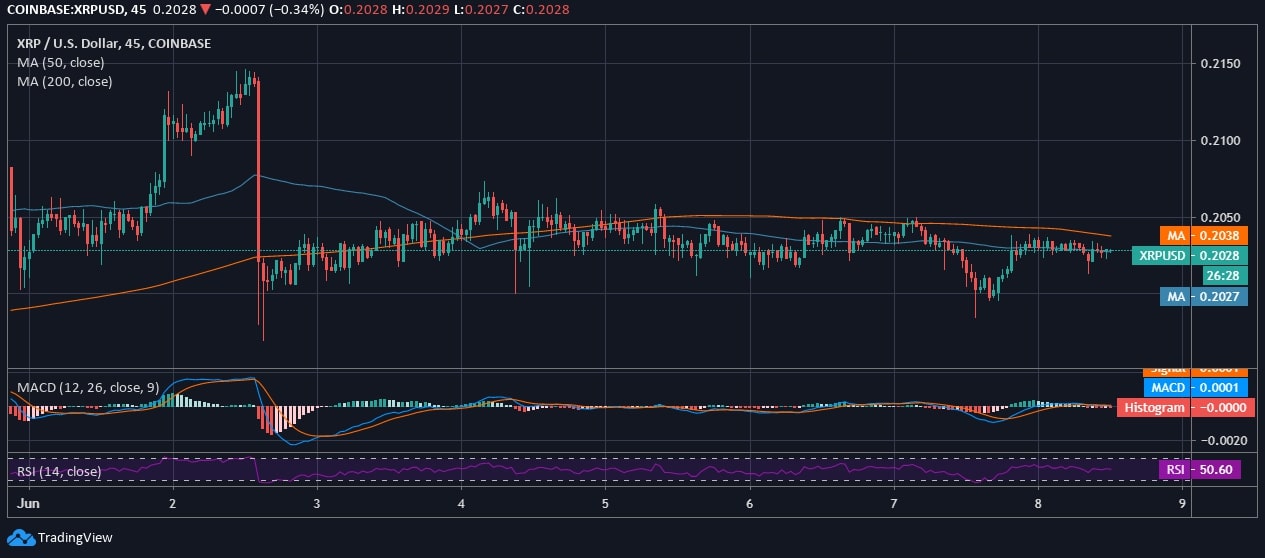 On the intraday chart, XRP/USD is appearing flat around the press time with the slightest of change recorded wherein the price slid below $0.20 momentarily against the greenback. The 200-day support on a 45-minute chart awaits as $0.2038 while the coin currently trades at $0.2028. The intraday turned up to be quite dull, wherein the XRP price lost 50-day support as well for a brief time period and hit the daily low at $0.2015, until the press time.
The technicals are appearing flat due to lack of steady momentum, and the MACD appears flat along with a slight bearish divergence, and the RSI of XRP lies at 50.60 with no trading extremities withheld at present.